Safeguarding the health and safety
Face masks, hygiene packs and clean water provision to neighbouring communities of a Kenyan solar plant
Frontier Energy is a leading investor in the African renewable energy market with over 750MW of renewable energy development. FMO is senior lender to 7 of these projects in Uganda and Kenya. The needs of the sector and communities Frontier Energy operates in, greatly outweigh anything a private business can feasibly undertake. Lenders' support via grants and margin reduction enabled Frontier to continue implementing community projects, and additional initiatives focused on food security and sanitation.
Through the Access to Energy Fund, which FMO manages on behalf of the Dutch government, we provided an emergency grant of EUR 73,000 to support Frontier in the production of 5,000 face masks by training 15 tailors from the community, the distribution of hygiene packs to 250 construction workers and neighbouring schools and, the drilling of 2 boreholes to provide access to clean water to a target population of 287 households. These projects were implemented within the communities neighbouring Eldosol Energy, a 40 MW Solar PV Power Plant in Kenya in order to prevent the spread of COVID-19 by promoting hygiene standards within the communities.
Lars Jensen Investment Director at Frontier Energy: "We greatly appreciate the funding from FMO. In combination with funding from the project we have been able to both accelerate and increase the benefits to the community from the project. This makes it clear to all that the project is an integrated part of the area."
Health & safety packages to support small-scale fishers in Indonesia and the Philippines
COVID-19 has disrupted global seafood supply chains and threatened the viability of SMEs in the sector, which provide the main source of livelihoods for many of the most vulnerable local community members in Indonesia and the Philippines. Small-scale fishers have lost their main source of income and struggle to purchase essential goods to sustain their families.
The Meloy Fund, a pioneering impact investment fund, has provided short-term relief to those fishers directly impacted by the crisis. Meloy's emergency response also included a health and safety package, which allowed for a minimum level of fishing to continue. Through the MASSIF Fund, which FMO manages on behalf of the Dutch government, we provided a grant of EUR 72,500 which enables the Meloy Fund to provide assistance to up to 25,000 local fisher family members.
Dale Galvin, Founder of Meloy Fund: "As an impact fund, we have both the privilege and obligation to reach out to the thousands of small-scale fishers and farmers in our networks and impacted by the global pandemic. With FMO's support, we are able to expand that reach and provide critical support to local fishers so that they can continue to safely provide for their families and keep food supplies flowing through local and international markets."
Enabling Indian outgrowers to safely continue with cultivation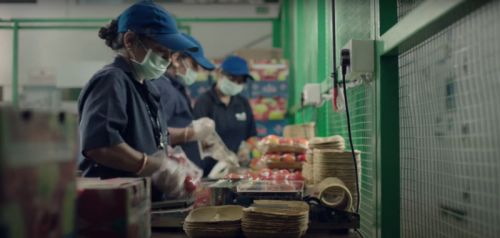 India has experienced one of the world's strictest lockdowns. These measures left little recourse for the country's millions of farmers, particularly those in the poorest provinces, who were unable to get access to essentials and protective equipment.
Through the Building Prospects fund, which FMO manages on behalf of the Dutch government, we provided a grant of USD 114,000 to WayCool Foods, for the procurement and distribution of dual-purpose personal protective equipment (PPE)kits and onsite soil testing to farmers. 15,000 small holding farmers across 5 states in India will benefit from the initiative. The PPE kits help protect farmers during the pandemic and shield them during agricultural operations such as pesticide spraying. In-situ soil testing will enable farmers to get their soil health measured without having to travel, thus facilitating effective soil management while maintaining social distancing.
Sendhil Kumar Natarajan, Head-Agri initiatives, WayCool Foods: "Farmers are essential service providers as they feed the nation. They are also very vulnerable during disruptive events such as the ongoing pandemic. Our measures have focussed on enabling the farmers earn their livelihood while reducing the risks they face. The FMO grant will help us in protecting a significantly larger number of farmers and we thank FMO for their timely support."
Our COVID-19 response package
We are helping our clients ensure business continuity and increase their economic resilience. To this end, we provide a combination of financial and non-financial assistance. In terms of financial support we aim to provide liquidity support, capital and guarantees.
To ensure the longevity and impact of FMO's financial support, we have a strategic response package with non-financial support. The package, which encompasses three pillars, has been designed to ensure our clients can continue serving vulnerable client segments and vital economic sectors. The three pillars include:
Remote advisory services, covering crisis management, business continuity counseling and leadership coaching;
A learning & exchange platform to bring together clients in webinars;
Emergency grants [featured in this article!]