Strategy aimed at creating greater impact
We believe in a world in which, in 2050, nine billion people will live well and within planetary boundaries. To achieve this vision, our strategy calls on us to pioneer, develop and scale. In doing so, we focus on three Sustainable Development Goals (SDGs):
Our strategy is aligned with the Investing in Global Prospects policy of the Dutch Ministry of Foreign Affairs, one of our key stakeholders. This policy aims to tackle the root causes of poverty, migration, terrorism, and climate change, while enhancing The Netherlands' international earning capacity.
Broadening our framework to align with our strategy
The FMO Sustainability Bonds Framework (last updated in March 2020) allows FMO to issue Green Bonds, Social Bonds or Sustainability Bonds to support FMO's Strategy.
We will use the proceeds to finance, in whole or in part, existing and future projects that have a positive environmental impact and social projects aimed at reducing inequality.
With the issuance of Green and Social Bonds, we will strengthen the development of the Green and Social Bond market. Through these bonds, we provide investors the opportunity to support FMO's green and inclusive lending in emerging markets, while benefiting from FMO's AAA credit rating. In addition, investors will receive a strong social impact return (GHG emissions avoided, jobs supported) through FMO's investments.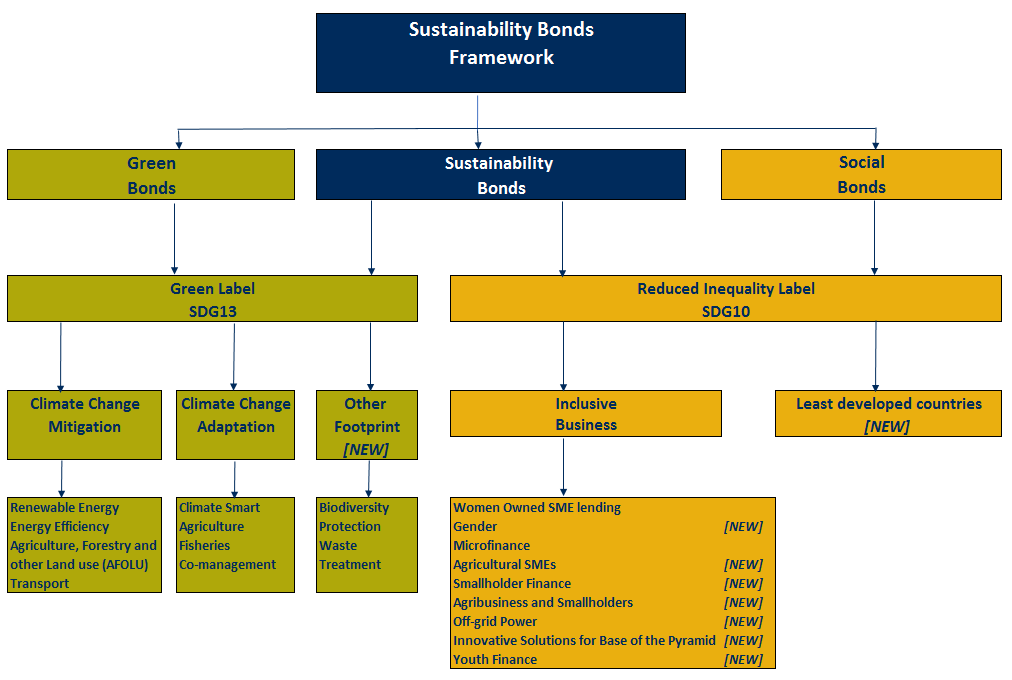 First to issue Sustainability Bonds in the Netherlands
Since 2012, FMO has been active in the thematic bond market with the issuance of Sustainability Bonds. FMO has developed a leading role as an established issuer in the Sustainability Bond market, as we have successfully issued 3 Sustainability Bonds in EUR (€500 million each) and 1 in SEK (SEK 2.7 billion).
Thematic Bonds issued since November 2013
| | | |
| --- | --- | --- |
| Year | Amount | Tenor |
| 2013 | EUR 500 mln, 0.125% 13/11/2018 (Sustainability) | 5 year |
| 2015 | EUR 500 mln, 0.125% 20/04/2022 (Sustainability) | 7 year |
| 2017 | EUR 500 mln, 0.125% 01/06/2023(Sustainability) | 6 year |
| 2020 | EUR 500 mln, 0.125% 01/04/2027 (Sustainability) | 7 year |
| 2016 | SEK 2,700 mln, 0.75% 29/11/2023 (Sustainability) | 7 year |
| 2018 | USD 500 mln, 2.75% 20/02/2024 (Green) | 5 year |
| 2020 | SEK 1,500 mln, 0.86% 27/03/2028 (Green) | 8 year |
Key features of the FMO Sustainability Bonds Framework
Investors invest in green and social projects without running project risks; benefit from a social impact return (avoided GHG emissions and jobs supported)
FMO has Sustainability Ratings verified by Sustainalytics and Oekom Research
Second Party Opinion provided by Sustainalytics: "FMO Sustainability Bonds Framework is credible and impactful and aligns with the four core components of the Green Bond Principles 2018, Social Bond Principles 2018 and Sustainability Bond Guidelines 2018"
National pioneer in The Netherlands