Green investments
FMO's green eligibility criteria are aligned with the Multilateral Development Banks (MDBs) framework on climate change mitigation and adaptation finance.The eligible projects may include:
Renewable energy projects such as solar, wind, ocean, geothermal power, hydro and heat;
Energy efficiency projects in buildings, public services, agriculture and industry and retrofit and improving of
power plants and power infrastructure;
Responsible agriculture, food production, forestry, transport and water projects (including biosphere conservation
projects).
Inclusive finance investments
Inclusive finance focuses on expanding access to affordable and responsible financial products and services to the poor and vulnerable populations. This includes microfinance as well as directly financing organizations that are often unable to gain access to financial products and services such as small- and medium-sized enterprises. A wide range of financial products and services are incorporated within the remit of inclusive finance including savings, credit, insurance, remittances, and payments (source: UNPRI).
Eligible projects include microfinance institutions (MFI), and financing of micro, small- and medium-sized enterprises (MSMEs) through financial intermediaries in developing and emerging markets in which FMO operates. To be eligible for the use of proceeds, financial institutions should:
Specifically target one or more of the following populations: females; rural populations who are focusing on agricultural production and agricultural value chains; economically excludedindividuals; and low-income populations who earn less than USD 8 per day; and
be identified as an SME, as defined by the International Finance Corporation (IFC), as outlined in below table.
Projects are classified as microfinance if they meet the following criteria:
End-client should meet two of the three criteria to qualify: the number of employees <10; turnover < USD 100,000; total assets < USD 100,000;
If before mentioned data under bullet 1 is not available, the end-client average loan size should be less than USD 10,000.
(source: IFC)
Projects are classified as SMEs if they meet the following criteria:
The end-client should meet two of three criteria to be eligible for the Sustainability Bond (see below table): 1) 10 < number of employees < 300; 2) USD 100,000 < turnover < USD 15,000,000; 3) total assets <USD 100,000; or
If data mentioned in point 'a' is not available, then the SME average loan size should be between USD 10,000 or more, but less than USD 1,000,000 (10,000 < USD < 1,000,000)
| | | | |
| --- | --- | --- | --- |
| Size of enterprise | Micro-size enterprise | Small-size enterprise | Medium-size enterprise |
| Number of employees | <10 | 10<50 | 50-300 |
| Total assets | <USD 100,000 | USD 100,000 < USD 3 million | USD 3 million < USD 15 million |
| Annual sales | < USD 100, 000 | USD 100,000 < USD 3 million | USD 3 million < USD 15 million |
FMO applies strict investment criteria, due diligence expertise and integrated environmental, social and governance (ESG) approach. > see our investment policies and our investment process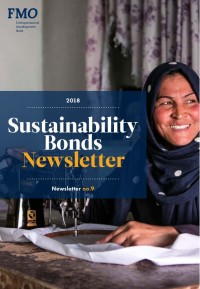 Sustainability Bond Newsletter
View all Sustainability Bond Newsletters
Downloads