I am drinking a cup of coffee as I write this blog. I assume that some of you may be drinking one as you read this. The coffee you are enjoying may be coming from East Africa, where coffee farmers produce some of the world's finest coffees but are also among the poorest in the world.
As coffee prices have deteriorated again in recent years, coffee farmers are suffering due to significant declines in income. The potential loss of unique coffees from East Africa would not only diminish the broader coffee industry but also pose a threat to some of our clients' long-term business in East Africa, such a Sucafina, one of the leading coffee traders globally with investments and development activities in support of the global coffee supply chain and FMO client since 2014.
Sucafina's efforts to improve coffee productivity were simply not enough for farmers to make up for lost coffee income. So, what to do?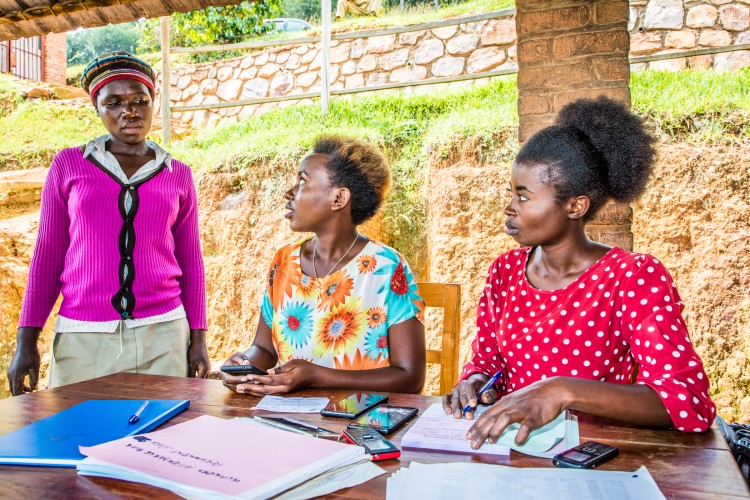 Sucafina smallholder coffee farmers in Rwanda
Finding new opportunities with Design Thinking
Starting from a place of deep concern for the farmers' livelihoods in addition to the poor market outlet for East African coffee, Sucafina decided at the end of last year to revisit and reinvent its business. This was the starting point of a six-month human-centred design thinking innovation process from 'incubation' to 'pitching' to 'piloting' laid out by 'Better Future' with the support of Capacity Development.
I was privileged to be part of this journey and to support our client with how to increase its contribution to SDG 10, Reduced Inequalities, which is at the core of FMO's work.
I was excited to see the mindset shift in the country teams since their first workshop in Rwanda in January. It had changed from a coffee trading mentality to a truly 'agripreneurial' mindset a few weeks ago in Kenya.
The process was structured by following the design thinking principles of researching the desirability of farmers as clients, technical feasibility through different technology solutions and business viability.
After the initial incubation week in Kigali, the final step of the activation process was to expose the country managers to a marketplace of different ag-tech opportunities such as Twiga Foods in Nairobi.
Management challenged to innovate
The process was designed to engage management and navigate from problem to opportunity to implementation. Each manager was challenged and supported to develop areas for innovation, which would fit the local realities of their country.
Sucafina's country managers have become true intrapreneurs, who are trying to build a better business from the inside out.
Better Future brought together a wealth of experience in coffee supply chains, expertise in facilitating human-centered design and innovation, and a broad network of relevant contacts in the development space. The senior leadership team convened to review past efforts, assess the future, and define a new vision for the local operating companies.
Sucafina's country managers have become true intrapreneurs, who are trying to build a better business from the inside out.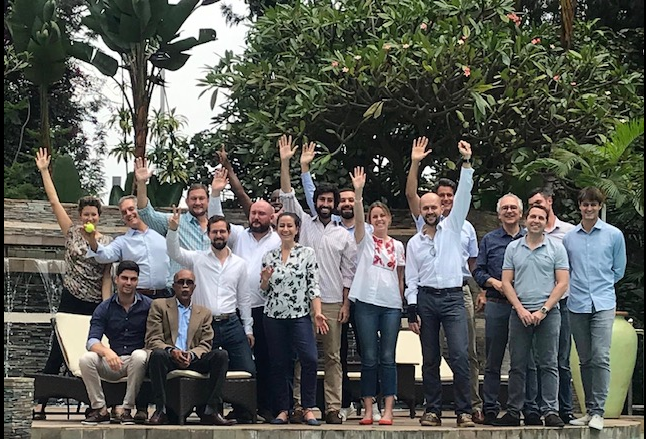 Sucafina's team of country managers

In Rwanda, the company is planning to procure maize from its coffee farmers, together with our Agri client Africa Improved Foods. It has also started partnering with Equity Bank to use its wet mills as locations for banking agents.
Tweaking solutions per country
While embracing a vision for a whole-farm, whole-year relationship with farmers, the team recognized from the outset that each East African country would have its own unique needs and opportunities.
In Uganda, Sucafina is exploring possibilities to off-take banana crops from coffee farmers and partnering with Equity Bank to offer banking services and credit to key farmers.
In Kenya, Sucafina is exploring new farmer segmentation for its fertilizer distribution and training models.
And in Burundi, one of the poorest countries in the world, Sucafina's subsidiaries are working with partners to leverage its wet mills and central dry mill to provide access to retail goods, access to bicycles and foodstuffs that are simply not available in rural Burundi.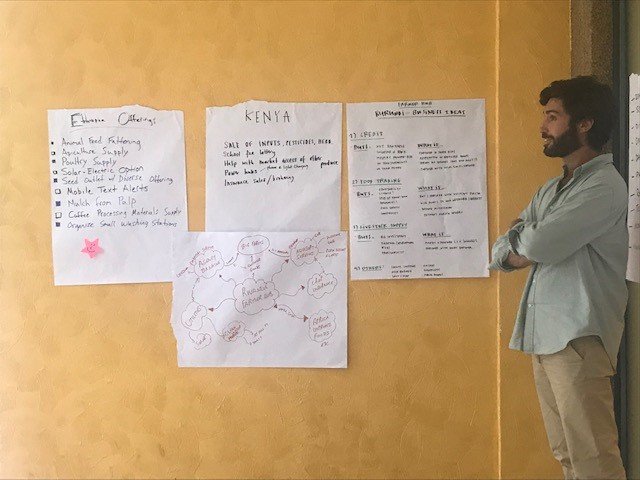 One of Sucafina's country managers during Design Thinking Innovation Process
Next step: further building the new Farmer Hub concept
The country teams are inspired and motivated by the opportunity to refocus attention to improving the lives of farmers. It is unlocking creativity and energy in the local staff. New partnerships with local banks, off-takers, and input suppliers are emerging, whilst highlighting the potential to transform the company. New business models have started emerging and are being piloted.
During the next three years, Sucafina will invest up to USD 5 million in different innovation projects to further develop its new Farmer Hub concept in East Africa. This will hopefully create year-round relationships with farmers that will help them diversify their farms and enable them to access banking services and finance. With the Farmer Hub, Sucafina re-invents the role of the merchant to focus on serving the broader needs of farmers and capture business opportunities that go beyond coffee.
At the end of the day, Sucafina is a coffee company. However, the year-round and more direct involvement with smallholder farmers will allow Sucafina to influence the quality of coffee produced. This is good for everyone in the coffee industry, and it provides new and meaningful opportunities to link roasters to this unique innovation at the farm.
When I joined the incubation week in Kigali, I couldn't have imagined seeing a coffee-trader be talking about maize, bananas and bicycles! I hope that we will be able to support more clients to embark on a journey to reduce inequalities whilst unlocking the creativity, energy and business potential like Sucafina's intrapreneurs. It is these kinds of initiatives – funded by our Capacity Development program – that make FMO "more than a bank". This is an example of how we try to bring parties together and enable knowledge exchange.
If you would like to know more about our Capacity Development program, please don't hesitate to contact me – we can always drink a cup of coffee!