The three complementary components of the Technical Assistance Facility are: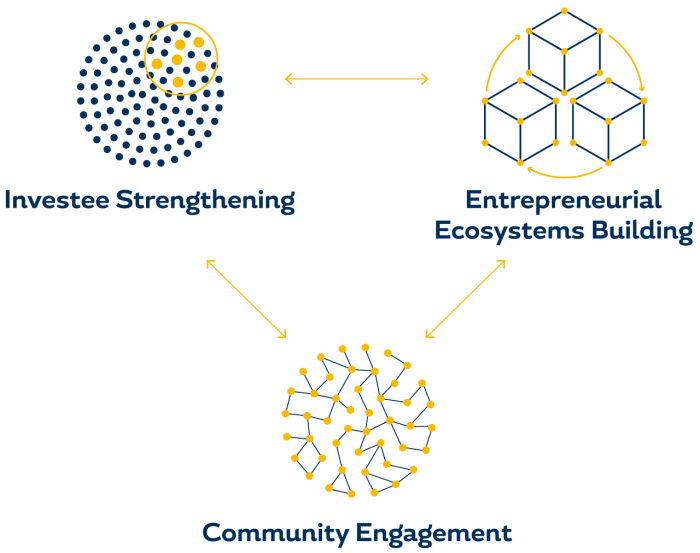 1 | Investee Strengthening
Investee strengthening enables investees to meet relevant standards, improve company performance efficiency and revenue, and increase the impact of their business by providing:
ESG and/or impact advisory support to ensure that fund investees and investee companies are able to meet relevant standards and monitor impact;
access to advice and the hands-on support entrepreneurs need to scale their businesses and accelerate their impact, and;
support to design and test inclusive business models, including gender specific activities, that also help entrepreneurs improve non-financial services for their own client base.
2 | Entrepreneurial Ecosystems Building
Entrepreneurial ecosystems building focuses on fostering the maturity of the venture capital sector in emerging markets by improving services of incubators, accelerators and other entrepreneurial support organizations, as well as enabling more early-stage financing for ventures.
Our strategic approach to Entrepreneurial Ecosystem building focuses on:
middle-tier markets for guiding surgical growth;
the missing middle financing gap for early-stage ventures, and;
tech-enabled solutions for broad-based development.
The underlying principles of this approach are to empower existing actors to deliver more sustainable, long term market solutions while co-funding and collaborating with other partners where possible. The Ventures Program is starting ecosystem building efforts by prioritizing three markets – Ghana, Morocco,and Tanzania – through projects with key partners.
3 | Community Engagement
Brings together entrepreneurs with investors and other stakeholders, as well as industry leaders to share lessons learnt and best practices.
Our Partners
For more information on the Technical Assistance Facility and partnerships, please contact Abigail Thomson, Senior Capacity Development Officer at info@fmo.nl.