Scatec Solar is a global solar developer headquartered in Norway with assets across the world, including in many of FMO's regions of operation. Azure is a solar developer in India. Azure has a portfolio of 1GW going on 3GW of both ground-mounted and rooftop solar projects, in various stages of development construction and operation, across 13 Indian states. Both are ambitious and entrepreneurial companies that (coincidentally) started up in 2007 and now have a similar sized portfolio of assets, i.e. over 1 GW and expanding fast.
Scatec Solar invited the FMO and Azure teams to visit their South Africa office and sites in May 2019 – a trip to the Rainbow Nation! Azure brought two Social Health, Environment and Safety leads and four other diverse members of the leadership team, representing Operations & Maintenance, Construction, Security and Procurement.
This FMOxChange program aimed to tackle the question of what environmental and social (E&S) good practice really looks like for solar portfolio companies. Traditionally treated as a 'low risk renewable energy', there is a growing realisation that solar energy has its own specific challenges: large land requirements, low labour requirements in areas with high job expectations, short construction periods, and generally low margins.
Scatec Solar's E&S journey involved several international lenders and a varied international context. The company has developed best practice approaches in a range of areas, from dealing with community tensions in Central America to becoming a trailblazer on addressing sensitive biodiversity issues in Eastern Europe.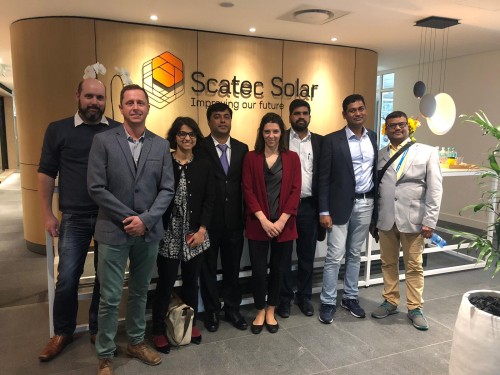 Group picture of the Scatec Solar and Azure team during visit in Cape Town
Learning from eventful environmental and social journeys in solar energy projects
Since starting its E&S journey with FMO in 2016, Azure has come a long way, with a twofold increase in E&S capacity, and a shift in approach in many areas. This includes moving beyond Indian labour law compliance to tackling complex issues around the root causes of poor labour and working conditions with their contractors and sub-contractors.
This FMOxChange started in Cape Town, at the Scatec Solar office on the slick V&A waterfront. A high energy day, with great presentations by Scatec Solar and Azure staff followed by crackling Q&A sessions. It quickly became clear that these two different companies, operating in very different geographical contexts, face similar challenges. The question "so what do you DO?" came up again and again, and amazingly, both companies provided insightful answers, based on their experiences. The examples below are just a taster:
Lesson 1: Share benefits, maximise local labour
An important lesson shared by Scatec Solar was that sharing project benefits with communities was the only way to develop a sustainable solar project in its local context. Otherwise, project risks and reputational risks mount, such as strikes, road blocks and even permitting issues.
Maximising local labour is a core Scatec Solar policy. The company demonstrated that investing early on (e.g. even before 'bidding' for a solar site) in local labour recruitment and local supply chain development can bring huge wins and ensure a smooth development process going forward.
Lesson 2: Increase leverage over contractors responsibilities on E&S
Scatec Solar's all-female Sustainability team stole the show, sharing live examples of how they have used Corporate Social Responsibility (CSR) strategically to increase community resilience to future or ongoing impacts. The discussion on contractor management was intense. Issues like workers' accommodation and waste disposal usually within the purview of contractors, are a shared challenge for both companies. The Scatec Solar team shared how they, over time in South Africa, increased their scope and leverage over contractors around these issues, not only through contractual requirements but also by investing in contractor training, and placing a greater focus on audit, enforcement and applying penalties.
Lesson 3: Simple solutions can be found in the field
After the first lively day in Cape Town, we took the show on the road, visiting some of the sites and initiatives we had already discussed on paper. At the operational site in Upington, the Azure team's excitement was palpable – they had discovered a potentially simple solution to an ongoing problem with their health and safety 'lock out tag out system'! Later in the program, animated discussions over a traditional Free State lunch of Bobotie (plus Chicken pie for the non-beef-eaters!) ranged from the best kind of cameras and electric fences for solar power plants, to the types of penalties that work best on errant sub-contractors.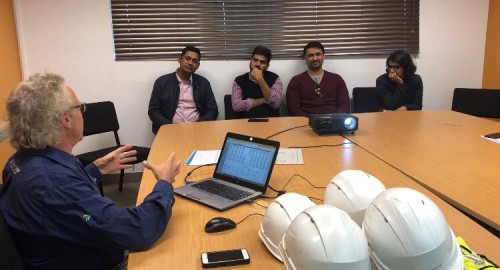 Scatec Solar giving a presentation on Health & Safety for the Azure team
Lesson 4: CSR only works if it is professionally planned and if communities take ownership
The highlight of the whole trip though, was a stopover in Hanover town, where we saw Scatec Solar's long years of planning and collaboration on community development projects come to life. In the words of the company's Sustainability team in Cape Town, "CSR needs to be professionally planned, structured and communicated to beneficiaries and community participation in these programs is key".
The joie de vivre of the Scatec Solar-trained girls' football team in Hanover was a testament to this. So was the gentle pride we saw on the faces of Lena and Gertruida, the two caretakers of the community-led and self-sustaining sewing factory. "School shirts are our biggest product", Lena said: "The kids grow big so fast." But her favourite piece of work so far was a wedding dress for a local bride—the company's only wedding dress request. She's hoping the factory makes a bit more of a profit soon, so that they can better meet the community's needs. The crowning glory of course was the 10-piece youth band and dance troupe, mentored by Scatec Solar-funded music teachers and social workers, whose live performance just blew the visitors away.
Final lesson 5: The 'how' is just as important as the 'what'
The lesson was clear for everyone – it's the 'how' of doing things, just as much as the 'what', that brings truly sustainable development impact, in places that need it the most.
About the FMOxChange Program
At FMO, we think it is important that clients can leverage our knowledge and network, so they can build their businesses in the most sustainable way. Often, the most innovative ideas or solutions do not come from us or our consultants, but from other clients who face similar issues, irrelevant of sector, as the exchange with Azure and Scatec Solar has demonstrated. The value of such insight can be incredible, creating new networks and friendships and providing opportunities to build on and evolve best practice. That is why FMOxChange facilitates knowledge-sharing between clients in different sectors and regions through onsite visits. The FMOxChange program supports the cost of two return flights, allowing clients to fly across the world for an onsite visit to exchange knowledge and ideas.