Current financial innovations and disruptive business models offer great opportunities to support local prosperity in underprivileged regions faster, better and with even greater impact. By hosting events with our clients and partners on green innovations and Fintech, we target to reinforce speed and scalability of innovation. I see how rapidly new plans are shared and adopted, as deals and partnerships are agreed and signed on the spot!
Green finance as the New Normal
For example, in India, FMO and client YES BANK facilitated "The Opportunity of Green Finance" Seminar, bringing together banks, developers, corporates, government and regulators to share knowledge and experience on innovations in green finance in Asia, including the business case for green bonds and sustainable finance. Green finance is an emerging new product in the Asian continent and the 200 participants had many questions on risks, definitions, regulation, subsidies, business opportunities and more.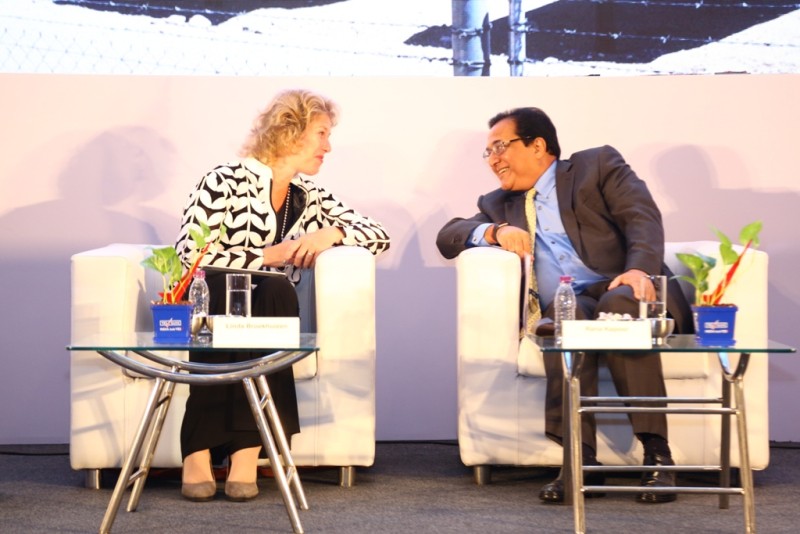 Exchanging ideas with Mr. Rana Kapoor, founder and CEO of YES BANK.
Mr. Rana Kapoor, the founder and CEO of YES BANK stated that US$2.5 trillion is needed to implement the Sustainable Development Goals in India. At the seminar, YES Bank presented their first Green Bond Impact Report. FMO's Indian client IFMR presented how together we structured India's first green loans securitization, targeting financing of innovations such as electric vehicles, smokeless stoves, solar units and biomass facilities. In my keynote speech I stressed the huge impact of population growth on the economy (India's population will grow with 30% from the current 1.3 billion to 1.7 billion in 2050) and I concluded that, over time, green finance will be the "new normal".
Fintech and Inclusive Finance
Back in The Netherlands, FMO organized the "Fintech for Inclusion Global Summit", where over 240 participants, including many Fintech start-ups, shared knowledge on the use of Fintech for inclusive finance. Fintech is another game changer as a means to increase outreach to underserved clients (including SME's, smallholder farmers and women-owned enterprises) and to reduce costs (mobile money accounts can reduce costs by 80-90%). Our financial institution clients indicate that they want to adopt Fintech solutions in the near future for developing customer identification solutions, new delivery channels and alternative credit scoring methods. At the Summit, we also welcomed representatives of large players like PayPal, MasterCard and Santander, as we are all are working on financial business cases to create profitable and scaleable solutions for inclusive finance through technological change and strategic partnerships.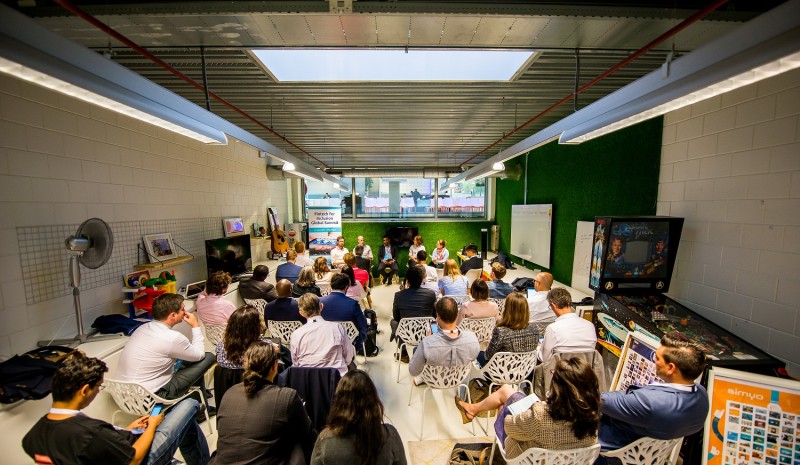 Summit participants share experiences during the various breakout sessions.
At the Summit, FMO was already able to present results, as I participated in the signing of three Fintech transactions:
A local currency facility to Kenyan Umati Capital focusing on value chain finance to rural SMEs and smallholders,
A senior loan to NeoGrowth in India who provides access to credit in local currency to first generation entrepreneurs,
An investment of the SBI-FMO Asia Fund into Innoviti in India, who set up a working capital lending platform to SMEs in cooperation with banks and large off-takers.
These two events demonstrate how fast innovations create opportunities for development finance and achieve greater impact by reaching more local communities and businesses faster and more efficiently. It is highly inspirational and rewarding to be part of these fast track innovations, where innovative game changers increasingly provide scalable solutions to grow impact at an exponential rate!
Photo credit: Nico Alsemgeest and Colosseum Events Pvt Ltd.