"People need their identity, they deserve their dignity. Instead of seeing them as aid recipients, we need to target them as entrepreneurs and consumers." These are the words of Killian Kleinschmidt, former UNHCR camp manager at the largest Syrian refugee camp Zaatari in Amman, Jordan.
Last week at FMO, we screened 'After Spring'. This moving documentary gives an impression of the daily life of two Syrian families already living in Zaatari for many years. Killian Kleinschmidt also features in the movie.
After the documentary, I had the opportunity to participate in a lively panel discussion with Killian Kleinschmidt (former UNHCR camp manager at Zaatari), Hans Docter (Director for Sustainable Economic Development at the Dutch Ministry of Foreign Affairs), Asari Jane Efiong (Senior Policy Manager at DG European Commission) and moderator David Kuijper (Manager Public Investment and Blending at FMO).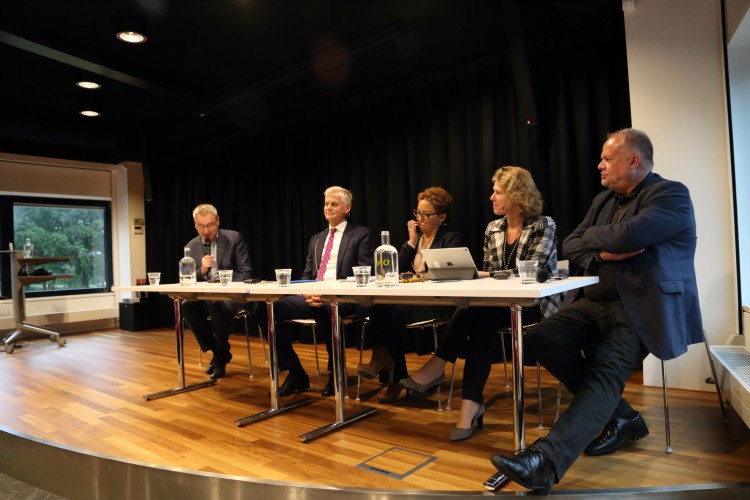 Panel discussion on financial inclusion of refugees. From left to right: David Kuijper, Hans Docter, Asari Jane Efiong, myself and Kilian Kleinschmidt
The impact of economic inequality and climate change on the global refugee crisis
Globally, over 25 million refugees have been forced to flee their countries due to conflict, violence and human rights abuses (UNHRC). In the coming years the number of refugees and migrants will continue to grow, also fuelled by economic inequality and climate change.
By 2050, the amount of climate migrants might even reach 1 billion, according the International Organization for Migration (IOM). Killian Kleinschmidt mentioned that, in Bangladesh for example, this will have enormous consequences. The country is already hosting almost 1 million Rohingya refugees, creating the world's largest refugee settlement (IOM). At the same time, we know that the bigger issue is going to be that 15 to 30 million people need to move away from Bangladesh' coastal areas in the coming years due to climate change (UN IPCC).
Financial inclusion plays a critical role in ensuring greater self-reliance and better livelihoods for refugees, migrants and internally displaced people.
Scaling up financial inclusion of refugees
Our panel discussion focused on the importance of creating partnerships with the purpose to scale up financial inclusion for refugees. Increased coordination and cooperation between governments, development finance institutions and the private sector is a prerequisite to deal with the complex challenge of financial inclusion of refugees.
Financial access for refugees is challenged by a number of unique factors, such as the temporary nature of displacement and lack of valid identification, that bring along several challenges for financial inclusion policies and practices. Financial intermediaries are often reluctant to provide financial services to refugees due to the high perceived risk, the (perceived) temporary nature of the displacement, as well as political and regulatory uncertainties.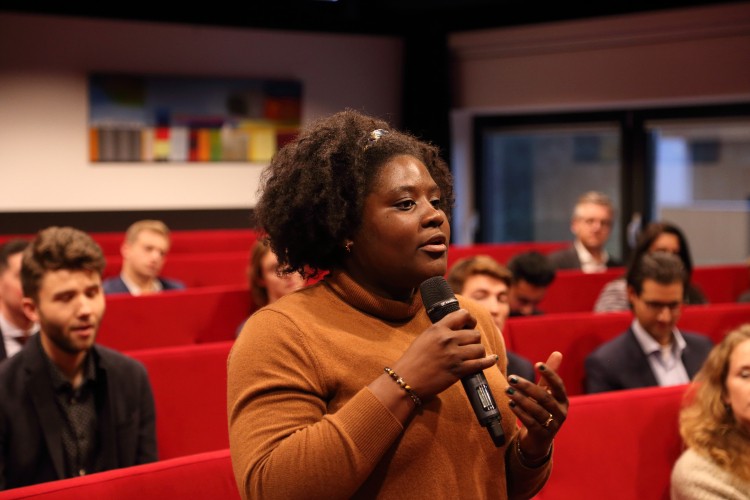 Rudo Mairisi, Portfolio Analyst at FMO, had a question for Kilian Kleinschmidt during the panel discussion
NASIRA, a new chance guaranteed
NASIRA is a risk sharing facility that FMO created together with the European Commission and the Dutch government. NASIRA uses guarantees to allow local financial institutions to on-lend to refugees within the European neighbourhood and Sub-Saharan Africa.
FMO submitted the NASIRA proposal to the European Fund for Sustainable Development (EFSD), a guarantee program that originates from the first pillar of the External Investment Plan (EIP) as launched by the European Commission (EC). One of the main objectives of the EIP is to mobilize private sector involvement in the socio-economic development of partner countries to help them address the root causes of migration.
NASIRA was granted up to EUR 75 million in guarantees and up to EUR 8 million in Technical Assistance from the Commission. It targets portfolios consisting of loans to entrepreneurial irregular migrants, gender and youth (those between 18-35). The goal of these guarantees is to allow the financial intermediaries to provide loans to groups they normally perceive as too risky. By catalysing other investors, the program is expected to support EUR 500 mln in financing for refugees, women and youth.
When camps become villages
Now back to the lessons learned from "After Spring" and the advices from Killian Kleinschmidt: "I was not the manager of a camp, but the mayor of a village." Killian stressed that both local governments as well as international institutions should not treat the refugee camps (as well as the even larger group of refugees and migrants living outside the camps) as temporary problems. Instead, sustainable solutions need to be created, based on long-term partnerships. For example, by working with local governments to provide for better sewage and housing.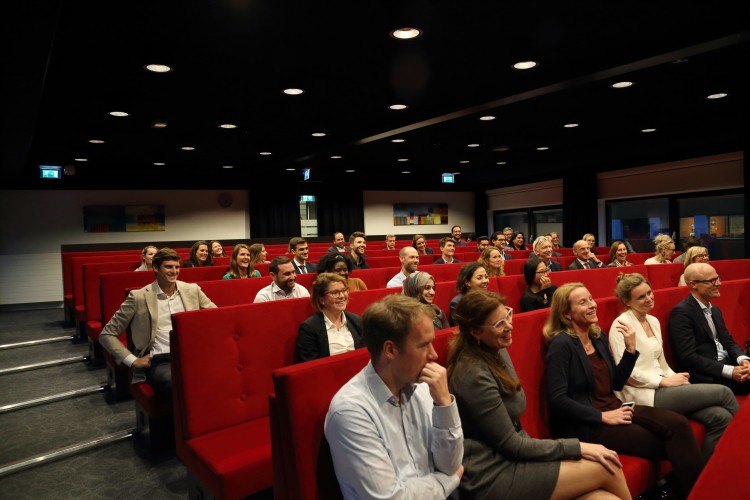 Crowd at FMO's documentary screening and panel discussion
Changing our approach to refugees
Refugees and migrants need to be served as entrepreneurs and consumers. Both in the camps as well as outside, the refugees and migrants have set up enterprises which can substantially grow if supported in the right way by affordable access to finance and insurance. Moreover, many families receive remittances from family members living abroad. For example, in the Zaatari camp, an estimated USD 30 mln is being spent in the shops annually. This is also shown in a study done by IFC about Kakuma: a consumer and market study of a refugee camp and town in northwest Kenya.
In case you did not yet see "After Spring", I can really recommend you to watch it. It certainly gave me food for thought. And it showed me the urgency that we need to continue to innovate and create new partnerships in order to scale up financial inclusion. This to make sure that we develop new products for those entrepreneurs who do not have access to finance to grow their businesses, yet who need it most!