It was a man's world. A world dominated by men in grey suits. A world where "institutionalized sexism" – gendered stereotypes, sexist environments and limitations set on aspiring women were tolerated. And while barriers in breaking the so-called glass ceiling are not fully eradicated in today's world, a massive transformation has however taken place in the banking sector over the course of the last 50 years - paving the way for women to make up more than 52% of banking sector employees globally [1].
The energy sector however appears to be lagging seriously behind. A recent study by the International Renewable Energy Agency (IRENA) found that women represent only 32% of the renewable energy workforce [2]. This data apparently compares favourably to the broader, conventional energy sector, which is predominantly male-oriented. These findings are a realistic reflection of the (renewable) energy environment that we experience when we visit our projects and engage with both developers, and local communities across different regions. Evidence from many sectors suggests that integrating women into all levels of the energy value chain will lead to more effective clean energy initiatives, unleash greater return on investments, and expand emission reduction opportunities [3]. With this evidence, one would wonder why progress is so slow. However, socio-cultural barriers – particularly in the developing world – have firmly rooted limitations to voice, to access, and to opportunities for women.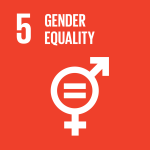 In 2017, FMO's Position Statement on Gender published an aspiration to seeking gender equality and to empowering all women and girls. Internally, we have taken this commitment seriously and are actively seeking ways in which each of our core sectors can mainstream the issues that limit gender equality in order to contribute toward the achievement of SDG 5. This requires strategies at both the impact and opportunities level; for entrepreneurs; for workers; for users as well as for stakeholders - to break through tradition and challenge socio-cultural norms. Strategies, that create equal opportunities for women and men so they can both contribute to their worlds: economically, politically, socially and culturally. It is an integral part of inclusive and sustainable development.
IRENA's findings further suggest that accelerating the deployment of renewables can alleviate poverty, create jobs, improve welfare and strengthen gender equality [4]. At FMO, our approach towards gender in the Energy sector is gaining momentum, although standardizing the gender lens will still take some time. However, on International Women's Day, we are bombarded with reminders of the efforts being made worldwide to address gender imbalances: #MeToo, #WomensTime, #BalanceforBetter, #BreakingDownBarriers. These hashtags also provide us with a moment to reflect on the achievements and contributions we at Energy have made together with our partners globally.
#CelebratingSmallVictories
So, especially today, we don't want to miss the opportunity to celebrate the small victories and milestones in some of our projects. Victories we hope to build on and stories we want to share to demonstrate that roles models exist in renewable energy, and to inspire as we set forth on our pathway to 2030. While these are perhaps the first droplets in the puddle, they are the beginning of what we hope will be a huge transition for the renewable sector – a transition that will EmPower. One towards which we intend to contribute in the years to come. And one in which we can demonstrate that yes, "She Can!".
Women in the Workforce
| | |
| --- | --- |
| Lower Solu - Nepal | |
| | Rabina is 1 of 3 female security guards hired at the Lower Solu Hydropower Project site. The strong voices of female community leaders helped shift the belief that only former policemen could do this work. |
| | |
| --- | --- |
| Bugoye Hydropwer Plant - Uganda | |
| The Bugoye HPP has generated more than 1000 jobs for local people and activities included a tertiary education programme established for women. Female workers were grateful for the opportunity to work in order to support their families and continue their education. | |
| | |
| --- | --- |
| Parques Eolicos del Caribe (Pecasa) – Dominican Republic | |
| | María Laguna, Architect and Quality Manager at Pecasa is responsible for all quality control at site including the supervision of concrete and road testings, the execution of buildings, civil works at the substation, all foundations and all related documentation. |
Women as Entrepreneurs
| | |
| --- | --- |
| Frontier Markets – India | |
| Ajaita Shah – Founder of Frontier Markets, a clean energy distribution company for rural areas. A company developed by a woman for women entrepreneurs to provide access to energy for female users. | |
| | |
| --- | --- |
| ReNew Power – India | |
| | The company has made gender a focus area of their CSR programs, supporting water initiatives, entrepreneurs etc. and have even developed and supported a now annual gender summit in collaboration with UN Global Impact India in Delhi. |
---