While the Management Board is accountable in practical terms, FMO remains a flat organization. Reporting lines are short and clear, facilitating supervision and control.
Appointed by our Supervisory Board, our Management Board is comprised of three directors:
Michael Jongeneel (1973), Chief Executive Officer
Michael Jongeneel (1973) joined FMO in September 2021 from international consulting firm Bain & Company where he was a partner in the Amsterdam office as well as the firm's global lead for sustainable finance. In this capacity, Michael helped to transform banks and insurers toward inclusion of sustainability in their core businesses and to develop impact investing strategies and innovative solutions in sustainable finance. Additionally, he gained extensive experience working in and with not-for-profit organizations focused on positive social and environmental impact.
Prior to Bain, Michael spent eight years at Triodos Bank where he was the Managing Director of Triodos Investment Management BV, and initially joined as Triodos' Chief Operating Officer and member of the Executive Board. Michael has a degree in Information Engineering from the University of Twente.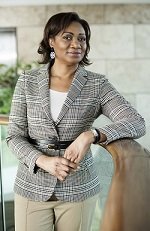 Fatoumata Bouaré (1966), Chief Risk & Finance Officer
Fatoumata Bouaré joined FMO's Management Board in October 2017 as Chief Risk & Finance Officer. Before that, she held the positions of Director Risk Management Head at the Bank of Africa Group and Deputy Chief Executive Officer of Bank of Africa Benin. In her capacity as the highest-ranking risk professional at the Bank of Africa Group, she was in charge of all integral aspects of risk, including environmental, social and sustainability risks. Bank of Africa Group is present in 18 countries with total assets of USD 7 billion, more than 500 branches and 6000 staff.
Fatoumata's early career developed primarily with blue-chip multinationals. Working first in treasury and finance, she held several regional finance roles with Citibank (Ivory Coast, Senegal), where she eventually transitioned to risk management. Thereafter, Fatoumata assumed two high-level risk positons at United Bank for Africa (Ivory Coast, Burkina Faso). She then joined Bank of Africa in 2010.
Fatoumata Bouaré has a degree in Engineering (Ivory Coast) and a Master of Business Administration from L'Ecole Supérieure des Sciences Economiques et Commerciales (ESSEC in France).
Huib-Jan de Ruijter (1976), Chief Investment Officer .
Huib-Jan has been appointed Chief Investment Officer in June 2021. He joined FMO's Management Board as interim Chief Investment Officer in October 2020. Since 2015, Huib-Jan was Director Financial Institutions, responsible for the sector department which works closely with banks, microfinance institutions and fintechs to advance access to finance for entrepreneurs. He started within FMO as Investment Officer in the Financial Markets department in 2008. He was promoted to Director of this department in 2011 and in this capacity responsible for FMO's treasury as well as loan syndications.
Before joining FMO, he was an Executive Director in the Financing Group of Goldman Sachs based in London. He started his career at ABN AMRO for which he worked in various roles in Amsterdam, London and Lisbon. Huib-Jan studied in Groningen where he completed Masters in both Business Administration and Law. He is a CFA Charterholder and attended Summerschool at the London School of Economics and Political Science (LSE) where he took courses on International Development.