While the Management Board is accountable in practical terms, FMO remains a flat organization. Reporting lines are short and clear, facilitating supervision and control.
Appointed by our Supervisory Board, our Management Board is comprised of two directors:
Linda Broekhuizen (1968), Chief Investment Officer
Linda Broekhuizen started per 2014 as Chief Investment Officer in FMO's Management Board. In this role, she is responsible for FMO's total investment portfolio of EUR 9.0 billion.
Linda Broekhuizen started her career at Fortis Bank in the Financial Institutions team for Latin America. In 2000, she started working at FMO, at first being responsible for investments in a selected number of countries in Eastern Europe & Central Asia and later in the Latin America department, where she managed a team since 2005.
She continued her career in 2008 as Manager Sustainability Development, a new position created to integrate ESG as a business case in FMO's core investment process. Consequently, she successfully set up Agribusiness as a new focus sector for FMO. Before joining FMO's Management Board in 2014, she was as Director Financial Institutions responsible for FMO's largest sector portfolio.
Linda Broekhuizen has Master Degrees in International Relations and in Business Administration. In 2010 she finalized a postgraduate program on Corporate Social Responsibility Management. She is member of the Supervisory Board of the Netherlands Council for Trade promotion (NCH) and member of the Appeals Commission of the Foundation for Banking Ethics Enforcement.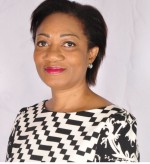 Fatoumata Bouaré (1966), Chief Risk & Finance Officer
Fatoumata Bouaré joined FMO's Management Board in October 2017 as Chief Risk & Finance Officer. Before that, she held the positions of Director Risk Management Head at the Bank of Africa Group and Deputy Chief Executive Officer of Bank of Africa Benin. In her capacity as the highest-ranking risk professional at the Bank of Africa Group, she was in charge of all integral aspects of risk, including environmental, social and sustainability risks. Bank of Africa Group is present in 18 countries with total assets of USD 7 billion, more than 500 branches and 6000 staff.
Fatoumata Bouaré's early career developed primarily with blue-chip multinationals. Working first in treasury and finance, she held several regional finance roles with Citibank (Ivory Coast, Senegal), where she eventually transitioned to risk management. Thereafter, Fatoumata assumed two high-level risk positons at United Bank for Africa (Ivory Coast, Burkina Faso). She then joined Bank of Africa in 2010.
Fatoumata Bouaré has a degree in Engineering (Ivory Coast) and a Master of Business Administration from L'Ecole Supérieure des Sciences Economiques et Commerciales (ESSEC in France).