Main content
ACLEDA Bank expands its operations to Laos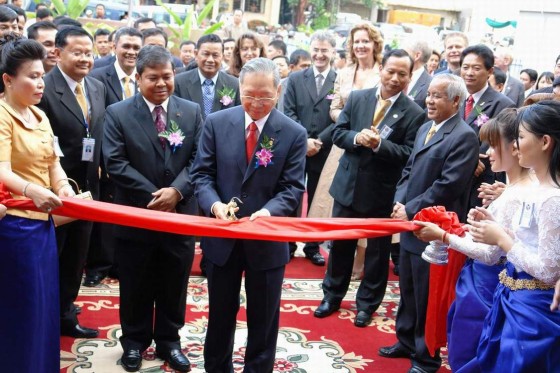 Thursday 28 August 2008

11:33
ACLEDA Bank recently celebrated a grand opening ceremony of its new bank in Laos.
ACLEDA Bank recently celebrated a grand opening ceremony of its new bank in Laos. It is the first Cambodian bank to become active in Laos. FMO is a 30% shareholder in the bank, other shareholders are ACLEDA Bank Cambodia, Triodos-Doen and Triodos Fair Share Fund. ?xml:namespace>
ACLEDA Bank in Cambodia has developed into a full-fledged bank with close to 200,000 loan clients, a nationwide network of more than 200 offices, and close to 5,000 co-workers. The bank is one of the leaders in microfinance worldwide and is currently market leader in Cambodia.

Laos has a large unmet demand for financial services at the lower end of the market. Recent and upcoming bank reforms in Laos made it easier for the Cambodian bank to expand. In December 2006 the Lao Parliament approved a new Law on Commercial Bank which allows foreign banks to operate across the country.

ACLEDA's establishment and expansion strategy in Laos includes a start-up of three provincial branches in the first year. These branches are located in the capital city Vientiane and the southern provinces of Savannakhet and Pakse. After five years ACLEDA Bank (Lao) aims to have a dense network of about 34 branches throughout Laos.
The Netherlands Development Finance Company (FMO) is the international development bank of the Netherlands. FMO invests risk capital in companies and financial institutions in developing countries. FMO's investment portfolio is EUR 3.4 billion, FMO is one of the largest bilateral development banks worldwide. Thanks in part to its relationship with the Dutch government, FMO is able to take risks which commercial financiers are not - or not yet - prepared to take. FMO's mission: to create flourishing enterprises, which can serve as engines of sustainable growth in their countries.
Press contact:
Nicoline van Slingelandt
Communications Officer (PR)
T: +31 70 314 9790
E: n.van.slingelandt@fmo.nl
W: www.fmo.nl