Main content
Investor Relations
FMO (Nederlandse Financierings-Maatschappij voor Ontwikkelingslanden N.V.) is one of the world's largest bilateral developmental financial institutions, providing financing solutions for private companies in some 60 developing countries. FMO is a sound financial institution with an AAA rating from Fitch Ratings and an AA+ rating from Standard & Poors.
FMO attracts funding in the money and capital markets. Under the GMTN program, funding is attracted in various currencies for tenors up to 10 years.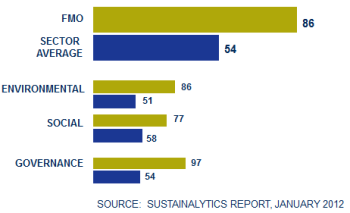 Sustainalytics
FMO came out number 1 out of a peer group of 24 financial institutions on sustainability in a table produced in 2012 by external rating agency Sustainalytics, the 24 institutions also including European Investment Bank and World Bank. Sustainalytics' customers include over 100 companies in the financial sector.
Oekom research
German rating agency Oekom research has classified FMO as "Prime" with a B-score, highest among financial institutions. This means that, according to Oekom, FMO is among the leaders within its industry with regard to sustainability.
S&P Reports
Standard & Poors rates FMO annually. Below are the reports from 2006 onwards.
Fitch Ratings Reports
Annual and Interim Reports
FMO's annual reports cover activities that took place or had effect on the reporting year. FMO publishes its financial and sustainability report annually by the end of March. Both elements of the report are audited by an external auditor. The consolidated interim financial information is reviewed by an external auditor.